Kid Power! Hosting a major concert on the international border obviously requires permission from the highest levels of government. When we were facing a difficult time getting access to these heads of States, we called upon our own consituents -- the children -- to get the attention of India's Prime Minister, Dr. Manmohan Singh. Introducing... Kid Power!
Sign the petitions!
This film, by Rahul Brown, was shot spontaneously at a "Kid's Can" event in Delhi. Voice-over by filmmaker Muzaffar Ali. Scoring by Delhi-based Jigri, a band that lends its voice to various socially responsible efforts - featurning the awesome Valentine Shipley.
Special thanks to: Ryan International School (multiple branches), The Sri Ram School, Modern School
More Videos: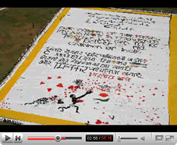 Watch this must-see video about a heartfelt effort with an enormous impact!
---
Watch the public service announcement that warmed hearts all over India and Pakistan.
---
Our second Public Service Announcement, made by Global Rickshaw, created for the Border Concert.
---
A CNN-IBN newsclip of our return from Pakistan on the 1008 ft. long "Golden Bridge of Friendship", signed by thousands of Pakistani students.