Why Your Internal Journey Matters

John Silliphant, of Friends Without Borders, tells the extraordinary story of how a small group of highly dedicated volunteers bring rise to the largest peace effort in the history of India and Pakistan, starting with school kids.
More Videos: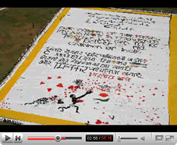 Watch this must-see video about a heartfelt effort with an enormous impact!
---
Watch the public service announcement that warmed hearts all over India and Pakistan.
---
Who do you go to when your plans require permission from the highest levels of government? Calling Kid Power!
---
Our second Public Service Announcement, made by Global Rickshaw, created for the Border Concert.
---
A CNN-IBN newsclip of our return from Pakistan on the 1008 ft. long "Golden Bridge of Friendship", signed by thousands of Pakistani students.